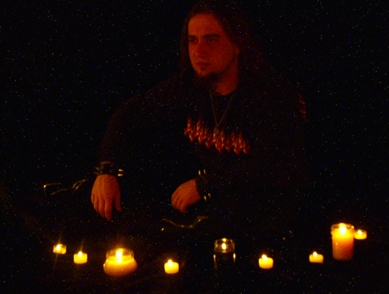 Philip Edwards was born in Waynesburg PA, on September 21 1973, and has been interested in music since he was a young child. Phil bought his first album, Van Halen 1, at the age of five. As he grew older and the 80's progressed, he was brought to life by bands like Metallica, Megadeth, Slayer, Ozzy Osbourne, and Pink Floyd. The music of these bands was what inspired him to enter the realm of guitar playing at the age of 18. As years passed, Phil's influences grew darker and heavier and so did his will to play metal in his own way. through the disgust of earlier bands (cover bands), his will continued to thrive on writing his own flavor of music.
It all started with a couple riffs and a good friend James Pierce introducing Phil to the young but talented drummer Ryan Yauger in the late fall of 1997. Thus, Blind Tempest was born. After the complete formation of the band in the fall of 1998, the band went through difficult times while making their mark in the local scene. With band line up changes and the death of the long time front man Paul Fullem on September 1 2002, Phil took over the lead vocal spot in addition to his guitar responsibilities.
Phil has played in Todd Clark's Owls in Obsidian, Stabbing Danny, Terminal Skrew and other studio projects. He is also the founder of Comp Metal, and founder and song writer of Blind Tempest.