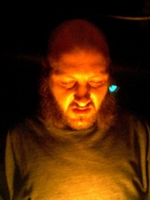 Nino Mancino was born in Fairmont, WV November 1st 1970.He has a large extended family where he has 3 sisters and 6 brothers .At the Unionville Pa. Grade school outside of West Chester Pa, he told the band instructor he wanted to play guitar, but there was no guitar in the band so he was given a trombone. It didn't take him long to give that up but he did learn to read music in the band which would come in handy later in life. He got his first guitar at age 15 and the rest is history. At the age of 16 he played on stage for the first time, at the corner pocket in Grafton W.V. and an addiction for the stage manifested within him. He started playing Bass in 1991 when forming cover band Dirty Weezil. Dirty Weezil had 3 guitarists and no Bass player. Now Bass is his favorite instrument although he still plays guitar, drums, and banjo. He's been in several Bands including: Herban Assault, Worm Wood, Dirty Weezil, Non-Dairy Creamer, Angel OD, P.M.F. Terminal Skrew, as well as countless studio projects, and live jams.
He first met and heard Blind Tempest at Kelligan McCoy's, a nightclub in Fairmont W.V. He was the manager; liked what he heard and booked them, over and over. His crowd loved them. Nino later recorded their first C.D. at e-four productions recording studio, it was the first C.D. to be recorded at the location. By this time the friendships had grown, especially with Phil Edwards. Nino admired not only Phil's writing and playing; he also admired his work ethic and desire to take his band to the top.
Discouraged with band members of P.M.F who had abandoned Nino without contact for 6 months, and the closing of e-four productions recording studio, Nino went out to see the old band of friends play one night. The Big Blind Tempest. Nino was offered the job of bass player for Blind Tempest that night and they got drunk on the deal, while watching friends Rezinus play. Blind Tempest was reborn . . . HARD.
Nino's beliefs in music are simple: "There are talented people everywhere. Putting three or four of them together and going in one direction is the hard part." He is influenced by more local acts than national ones, and just loves putting on the show, or catching a good one. He appreciates several forms of music, but prefers to play Heavy. If you happen to catch him at a show, buy him a beer or a shot, and dig the groove. He is after all, 1/3rd of the mighty Blind Tempest.
"Where's my bitches?" - Nino Mancino, II - the L.C. of the B.T.